Harry Gelbfarb: Forerunner of Bodybuilding in Germany

Seven men and women founded in 1959 the first German bodybuilding association. Had Gelbfarb not layed the foundations for bodybuilding in Germany, young Arnold Schwarzenegger would not have gotten the chance to prepare for his international career in Munich.
This website is about Harry's contribution to this development.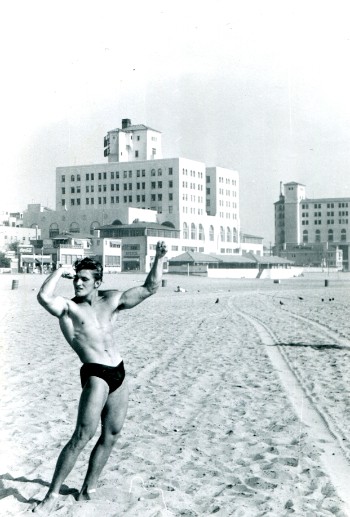 Harry Gelbfarb led an impressive life. As a child he hardly survived the holocaust in Vienna, emigrated to the USA, came to Germany and married the love of his life. He founded Germany's first bodybuilding gym and the first Geman association for this sport. Arnold Schwarzenegger became a friend for decades. In his later years, Gelbfarb ran a gym in California.
"If Jahn had not created Turnen; if Turnen had nof embraced weightlifting; if Sig Klein had not become a Turnverein member and then a gym owner; and if Harry Gelbfarb had not wandered into Klein's gym one day and begun to learn about bodybuilding; then Gelbfarb might never have returned to the Fatherland and launched the modern era of this sport in Germany."
Jürgen Giessing/Jan Todd: The origins of German bodybuilding: 1790 bis 1970
Harry Gelbfarb poses at Muscle Beach,
circa 1954. (Photo: Estate Gelbfarb)
Here is an overview of Gelbfarb's life:

1930

Born on October 5th in Vienna/Austria to a Jewish Mother and a Christian Father. The mother gives him away to a foster home.

1934

Gelbfarb ist accomodated by foster parents.

1938-1945

His foster parents are deported to concentration camps. Gelbfarb is accomodated in a Jewish foster home at Vienna. He survives the war with malnutrition, tuberculosis and heart problems.

1947

Gelbfarb and his stepmother, who survived the concentration camps, emigrate to the USA.

1949

In New York, Gelbfarb begins with bodybuilding.

1951-1953

Gelbfarb is drafted in the US Army and stationed in Schweinfurt/Germany. There he falls in love with is later wife Elly, a sports teacher.

1954

He works as a trainer and physiotherapist at the famous Beverly Hills Health Club in West Hollywood/California.

1956

In Schweinfurt, Gelbfarb opens up his bodybuilding gym, the first one in Germany ever.

1956

Marriage of Elly and Harry Gelbfarb

1959

In order to take part in the Mr. Europe contest in Turin/Italy, Gelbfarb founds the first German bodybuilding association. He starts in Turin with two of his students.

1960

Gelbfarb organizes the first Mr. Germany contest in Munich. One of his students wins in class I.

1961

Opening of a large gym in Nuremberg. One of several studios Gelbfarb runs in Germany in the following years.

1966

Gelbfarb meets Arnold Schwarzenegger in Munich for the first time.


1981

The first German national contest for women follows the regulations developed by Gelbfarb.

The first German contest in the posing for couples is held at Gelbfarb's gym in Schweinfurt.

The German American bodybuilding contest in Kitzingen (Northern Bavaria), is organized by Gelbfarb.

1983-1991

After moving to California, Gelbfarb runs a gym at San Clemente.

2005

Gelbfarb dies on May 5th in Zell nearby Schweinfurt (Germany)

2010

The German bodybuilding association DFBV affiliates him in its Hall of Fame.
Further Reading: Jürgen Giessing/Jan Todd: The Origins of German Bodybuilding: 1790 bis 1970
Photos at top of the page: Profile of Harry Gelbfarb's head, pupils of Gelbfarb posing at the pubilc swimming pool at Schweinfurt (Photos: Estate Gelbfarb).